We thought she had a much nicer song than the one from
Estonia
in 2010--we can never remember the name of the group because they remind us too much of another Harry Potter character. Instead, we call them Draco and the Malfoys. (The downer lyrics sort of fit...)
My 12YO thought
Moldova
's lead singer was Gandalf's wife. (Starting around 2 minutes or so...)
Then we have
Lithuania
, winner of the slightly peculiar English lyrics award. We kind of liked this one, even though the words are full of deep feeling and he's smiling away. But really, when you are giving a declaration of love and singing about how it's because of your shoes...well, that's one of the things that makes Eurovision entertaining.
Croatia
had great singers (sort of a 7 Tenors approach) and nice outfits, but there just wasn't a tune to the song. Too bad. They could have really shone with a more interesting song.
Tonight: the second semifinal. Switzerland's entry is the only one I've heard all the way through. I rather like it. Their song won the national choice, but they had to change their name and costumes because they weren't allowed to compete under the Salvation Army name. (Heilsarmee) The oldest performer is 95! See, this is what's fun about Eurovision: you can have opera and techno and metal and folk and bizarre combinations that may or may not work, all back to back. It's like an unlabeled bag of Bertie Botts Every Flavour Beans or something. It might be toffee, or you might take a bite and realize it's alas, earwax. It's adventure! And everyone needs some of that now and then...
We watched the first semifinal last night and are catching up with the second one tonight. So far: some really nice backup dancing. Also, cool drums of unspecified folk-ish origin. By far our favorite from the first semifinal was Denmark. It had a cool flute/whistle, it had nice drums, it had an actual melody, and well, I guess we were swayed slightly by the lead singer's strong resemblance to Hermione Granger: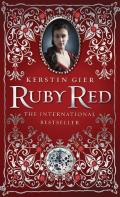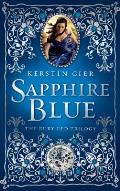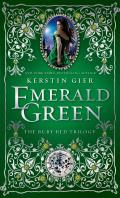 Okay, so really, this is a review of the whole trilogy. But if you are looking for a fun time travel YA series, let me recommend this one. I am almost but not quite impervious to famous people blurbing books, but when I saw that Jackie Dolamore blurbed the first one, I admit, I was swayed. And I'm glad! Soooo fun.
The story: Gwyneth (Gwendolyn in the original German) Shepherd is perfectly normal, thank you. She goes to school with regular kids and the usual odd assortment of teachers, and the only unusual thing about her is that she can see ghosts. But it's not anything that disturbs her life in general, and anyway, Great Aunt Maddy has visions sometimes. Compared to her bless-the-ground-she-walks-on cousin Charlotte, though, there is nothing special about Gwen. Charlotte, it has been foretold, carries a special time traveling gene--the twelfth person of only twelve in history. Everyone's waiting for perfect Charlotte to make the first uncontrolled time trip. Except...it's not Charlotte who gets dizzy and ends up in the past. It's Gwen. It turns out her parents lied about her birth date, and she actually has the foretold gene, not her cousin. Unlike Charlotte, Gwen has not spent a lifetime learning fencing and 18th century ballroom dancing and the secret language of fans. She's been doing what any normal teenager does--ie, watching movies with her best friend Leslie. It's...kind of a shock, both for Gwen and for the sometimes overly secretive and prissy time travel society. Also, frustrating for Gwen when she finds out she's part of a mystery that no one will explain.
For centuries, everyone's been waiting for the twelfth time traveler to show up. When every traveler's blood has been read into the chronograph (time machine--they prick their finger on it to travel), something miraculous is supposed to happen. Except...twenty years ago, two time travelers stole the chronograph to prevent the circle from ever being completed. Today, the travelers rely on a backup chronograph, and have had to start over again to collect the er, samples. Gwen's expected to go along with all of this, except that no one, not even the attractive and frustrating Gideon de Villiers who is the other time traveler her age, will tell her anything. They're afraid she'll join the other side, so they keep her in the dark. It's up to Gwen to figure out who to trust and what is really going on.
Things I love about these books:

The main character. Seriously. I've read a lot of books where the main character is sort of a blank slate. Gwenny (Gwendolyn/Gwyneth, depending on which language you're reading it in) has an actual personality. She's funny! And lets you know everything else she's feeling, too. It was very fun to hang out in her head.

Leslie, her best friend. One of my favorite best friends in a book. She's funny, she's supportive, and she does stuff. She's also not above telling Gwen when she's overdoing it.

All the ghosts. I love how Gwen is friends with them, the interaction between them, and well, Xemerius's running commentary, lol. (He's a gargoyle ghost who shows up in the second book.)

The fact that Gwen has an actual family that she interacts with. Of course I love to hate Aunt Glenda and Charlotte and feel put off by frosty Lady Arista. But the rest of them! I love the feeling of them all hanging out together, secretly having cake parties or whatever. I love her grandfather. I love the butler. A lot of YA books feature characters who are really alone (probably because it's hard to keep track of a lot of characters when you're writing). But the truth is, teens are surrounded by people, and usually do have families. Ditto, I love it that there are some nice people at the secret lodge, too (like Mr. George). There's a very large cast of characters, and yet they were all distinct and interesting.

The way the author makes you love and hate a certain green-eyed De Villiers boy. Really, I didn't know how she was going to turn that one around! But she did.

A wonderfully fun read full of humor, romance, mystery, and time travel.
The last book comes out this fall in English (luckily, I read German, so I was able to order it and actually read it without my kids trying to swipe it from me. I'm thinking of ordering more books in German for the same reason... :) )
One of today's events was the middle school orchestra concert. The fifth graders have learned a lot this year! We stayed for sixth grade, and one of the pieces they did was written (in piano form) by the parents of one of the students. The student--yes, age 12--arranged it for orchestra. She also won an arranging contest for it. I was extremely impressed! I guess it's just another day in SE Idaho, though--I mean, I'm starting to actively expect this sort of thing as normal for around here.
The end of the school year is absolutely insane, you know? This week and next are packed to the point where I'm wondering if I can somehow finagle a non-soul-destroying way to split myself into seven so I can make it to everything. I was so tired today that the pavement in front of the grocery store was looking tempting as a place to take a nap. I was supposed to help a neighbor with her move, but the one hour I was available, she wasn't there, which in retrospect was probably a good thing, as I could barely function at the time. They were still at it tonight, so I sent my boys over to help out.
Another thing I learned while googling to see what was real and what was made up in a time travel book is that Siebenburgen = Transylvania. I had NO IDEA. Siebenburgen is a traditionally German region of Romania (like the Sudetenland in the Czech Republic). I KNOW someone from Siebenburgen. It's just a regular place. Except that it is the German name for Transylvania! This is the thing: learning stuff in different countries/languages isn't just a matter of substituting one word in one language for another in another language. You learn about entirely different things depending on which language you use. (And now of course my mind is trying to fit the very nice lady I know who took up piano as an adult with hello, Transylvania!)
Saturday we got out of town for a bit, which was nice after the long winter. The older boys were off camping in various places with the scouts, but the rest of us plus SIL hopped in the car and took off for Clark County, population 900 and something. Basically, you drive to the sand dunes and keep going over volcanic wasteland until you're at the base of the Centennial Mountains, which divide Idaho from Montana. It was pretty, and pretty remote! There was still snow on the ground, and the animals acted like they had no idea what a car was. There's about 11 miles of unpaved road once you hit the Yale-Kilgore Road (it connects I-15 with Island Park, but not many people actually drive it, with good reason).
(Yes, that's the Tetons as seen from Island Park in the photo above.) We saw sandhill cranes, ospreys, chipmunks, a groundhog (at least, it was too small for a marmot), a MOOSE in the middle of the road, a pronghorn (also hoofing it down the road), and a lot of buffalo (on the road). This is a good time of year to see wildlife down low because it's still pretty snowy up high.
We drove past Henry's Lake, which I've always wanted to see, and up around the mountains to Quake Lake, which my SIL has always wanted to see. Quake Lake is a really pretty region where you think you might want to go camping. Except that in 1957, 28 campers died when a 7.5 earthquake hit, causing the mountain across the river to break apart and spray across the valley at 100 miles an hour. The landslide dammed the river and voila, Quake Lake. Pretty, but eerie.
After swinging through West Yellowstone, we headed back into Idaho, stopping at Big Springs for lunch. So pretty!
Sawtell Peak in Island Park:
I can't wait until it's green up there!
You learn stuff every day. For example, my second grader is preparing a class report (a Referat--I guess we DO do them in America!) on penguins. One thing she/we learned yesterday is that not only do penguins mate for life, they get engaged by searching the entire beach for the perfect stone to present to their beloved. Awwww.
1. Savvy, by Ingrid Law. Takes place on the border of Kansas and Nebraska, in basically a small town/rural area. No taxis or city buses here! When Mibs Beaumont's dad is in an accident, she and her brothers and some friends sneak onto the pink Heartland Bible bus and try to hitch a ride to Salina, where her dad is in the hospital. If Mibs is right about her newfound, 13th-birthday savvy, she'll be the only one who can wake him up. And if she's wrong...?
2. Ultraviolet, RJ Anderson. Takes place in the Sudbury basin of Canada. If you aren't Canadian already, how many books set in Canada have you read? Canada is a perfectly normal place where many readers live. (Actually, I somehow have a collection of books by people who live around this Sudbury basin--RJ Anderson, Erin Bow, and James Bow. There is something about that place that must make people more creative than normal...) The story: Alison gets sent to a mental hospital when a classmate, Tori, disappears and she confessed in a fit of crazy that she disintegrated her. But how is that possible? Alison sees numbers as colors and tastes if someone's lying, but that doesn't mean she can hurt people with her mind. A mysterious psychologist who tells her she has synesthesia believes she's innocent. But what is his own agenda?
3. Dairy Queen, Catherine Gilbert Murdock. Set on a dairy farm in Wisconsin. I love the small town feeling, the football rivalry with the next small town, and the fact that the hot guy around town is the son of someone who runs a car dealership and gets his boots at the big Walmart in town. Social status isn't absolute; it's a relative thing, and you can be king in a small town as easily as you can in New York, all things being relative. The story: DJ Swenk does all the work since her dad got hurt on the farm. A family friend sets up a deal where DJ helps train the other teams' quarterback in exchange for extra help on the farm. Only thing is, DJ signs up to play football, too--on her own, opposing team--and Schwenks don't talk about anything. Which makes that first game really awkward...
4. Al Capone Does My Shirts, Gennifer Choldenko. Setting: Alcatraz Island. Moose Flanagan moves there with his family so his dad can be a prison guard. And yes, Al Capone and the other prisoners do the laundry. Which is scary and exciting--and useful, because only someone like Al Capone can pull strings to get Moose's autistic sister Natalie into a special school. But there is a price for things like that...
5. Beautiful Creatures, Kami Garcia and Margaret Stohl. Setting: South Carolina, in an imaginary town near Charleston. Having lived in Charleston, I loved the details! Story: Ethan Waite's been dreaming about a girl, and then she shows up at school. Lena is part of a family of witches and when she turns 16, she'll turn into either a good or bad witch. Ethan's job is to save her from going bad.
6. Tangerine, Edward Bloor. Setting: Florida. Sinkholes, bad weather, oranges, etc. Paul and his family move to Florida, where Paul fights to play soccer and deals with his creepy older brother Erik. Meanwhile, houses fall into sinkholes.
7. Palace Beautiful, Sarah DeFord Williams. Setting: Salt Lake City. Sadie and her sister and their neighbor discover a journal in a hidden room in their house that details what happened during the 1917 flu epidemic. The girls search for the author to find out what happened.
8. Wolves, Boys, and Other Things That Might Kill Me, Kristen Chandler. Setting: West Yellowstone (even though it's called West End in the book). About a girl whose family works in Yellowstone, and the drama that the whole subject of wolves creates in the ranching west.
9. The Host, Stephenie Meyer. (Yeah, I know she has that other series that's set in a much rainier place...but you already know that one.) Setting: the Arizona desert. Story: when alien bodysnatchers take over the world, the few remaining humans hide out. But one body snatcher becomes friends with the human whose body she shares, and together they go in search of the human's family, and try to protect them.
10. The Revenant, Sonia Gensler. Setting: Talequah, Oklahoma. Who knew there was such a thing as Cherokee Gothic? I didn't. Spooky story about a girl who impersonates a teacher at a school (this is historical fiction) and finds a haunting and a mystery on her hands.
11. The Scorpio Races, Maggie Stiefvater. Setting: an Irish island, far from any populated center. I know, not American. But the book is all about why someone would fiercely love living in the middle of nowhere. About carnivorous (but very fast!) water horses that people train for races.
12. Vodnik, Bryce Moore. Setting: Slovakia. Okay, there are a ton of books about teens going to Europe. But they are nearly always from the point of view of rich foreign exchange student. This is just a regular American kid who moves there and really lives there. Having lived in Chile for a year and a half and Germany for four years, I loved how much realer and more accurate it felt than the 20-countries-in-14-days sort of books. Story: Tomas keeps seeing all these weird mythical creatures who want to reap his cousin. His parents moved to the States when he was five to protect him--but now that they're back in Slovakia, can he survive?
What about you? What are some of your favorite books that take place in a literarily underrepresented part of the US or world?
I'm hosting a book club at my house tonight and we're talking about Ingrid Law's wonderful book SAVVY. One of the many things I love about it is that it's about a "regular" kid (albeit with a savvy!) who lives in a "regular" part of the US. Nothing against major media centers (my paternal grandparents were apparently diehard New Yorkers), but I confess to a longing for more books that take place in locations other than New York. 300 million Americans DON'T live in New York. Most kids have never taken a taxi, ridden a subway, lived next to 8 million people, had to wear a uniform to school, know what a "brownstone" is, let alone have seen one, etc. I think it's fun to experience other places through books, but I also think it's important to find your own reality reflected in books sometimes, too. I've noticed this a lot in picture books as I've lived in so many different states and seen kids utterly puzzled during a read-aloud about leaves turning colors and falling off in the fall (most trees in South Carolina are evergreens; they lose their green leaves in the spring as new ones come in). I've seen farm kids bewildered by pictures of kids crammed into high rise apartments. It's SO refreshing to find a map of Wisconsin in a picture book, or reference to the Michigan "hand," or photo illustrations of the postal system--as shown by a letter traveling from Utah to New Mexico. There's a lot of talk about diversity in books for this very reason, and I hope that with all the different kinds of diversity, some regional diversity creeps in. Something that will show that we all have different scenes out the window, but that there can be kids in New York and New Mexico who can still share the same kinds of feelings and inner experiences. So I wanted to highlight a few books that take place in a specific setting (as opposed to Anywhere, USA) that is maybe less represented in print yet in a place actual readers live.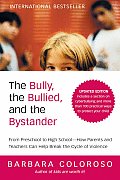 I went to the library to pick up a book on hold and came across this on the new shelf. And came home and read it straight through. REALLY excellent--probably the best book on the subject I've read. My kids have gone to all kinds of bully discussions at school over the years, and some of the solutions the schools come up with...well. Our favorite (not at this school, I forget which one it was) said, if you find yourself being bullied, what you need to do is fine a lot of friends to stick up for you. Um. Riiight. The whole reason the bully singled you out is because you DON'T have a bunch of friends. So how is that supposed to help?
This book isn't like that. This book is
helpful
.
One thing I like is how it treats the problem as a complex issue. What is bullying about? Power and contempt. Who is involved? The bully, the victim, and also the people watching (who might defend, join in the attack, or passively do nothing.) All of these players must overcome issues to solve a bullying problem. The book addresses each player in quite a bit of detail, trying to understand motivations for acting the way they do. And then it walks you through how to solve the issue and break the cycle of aggression.
Some things I particularly liked:
(In the section on understanding what bullying is) Teasing versus taunting: Teasing is fun, and done on an equal level of power, and ends when one of the participants is uncomfortable. Taunting is done on unequal power levels, and is meant to be degrading and show contempt.
Telling vs. tattling: If you do it just to get someone in trouble, it's tattling. Don't. If you do it to get someone OUT of trouble, then do it. If it's both, tell. I thought this was a super succinct way to explain it to a kid.
The idea of repentance--helping your child apologize, make restitution, and try to heal the breach. Understanding, of course, that things take time, and the older and more severe the action, the more complicated this is. (It sounds better in the book than in my summary!)
The idea of "creating opportunities to do good"--it teaches empathy and teaches kids to value other human beings. If you do, you aren't going to want to bully someone. Basically, the book promotes talking with your kid, modeling good behavior for your kid, but also putting the kid in the steering wheel to learn by experience how to deal with other people in a healthy way.
The section on dealing with the situation from the bullied side was good, but the one that stuck out most to me was the bystander section. Because we are ALL bystanders. And really, one person CAN make a difference. Some good friends of ours have a son the same age as our oldest. They had recently moved to a new town and he was the new kid in school. (So, every reason to keep his mouth shut and work on keeping those new friends.) The circus came to town, and since homeschooling is illegal in Germany, the circus kids were required to enroll in whatever school they were near. So yes, that means changing schools every few weeks. The other kids started picking on the circus kids. Our friends' son stood up and told them to leave the circus kids alone.
And they stopped.
He could have stayed quiet, but he didn't. And because he spoke up right from the start, the bullying never had a chance to take hold. I think of that story a lot.
My oldest (now 15) had significant bully issues in 3rd and 4th grade, and so I'm always sensitive to the possibility. The town we're currently in has by FAR the lowest incidence of bullying of any school we've attended, and I've pondered a lot on why that is. I'm pretty sure it's because of all the things the book names--the families in this town are teaching their kids by word, by example, and by providing practical experiences for their kids on how to feel good about themselves and care about others. I know that no place is perfect, but the difference here is striking. I wish it was like this everywhere!
And I guess I've just been thinking a lot about this, seeing how the book I most recently finished writing had a lot of these themes...especially about the bystander part. Which is why this quote stuck out to me in neon lights. It's a quote from Neil Kurshan, from his book Raising Your Child to Be a Mensch: "Children do not magically learn morality, kindness, and decency any more than they learn math, English, or science. They mature into decent and responsible people by emulating adults who are examples and models for them, especially courageous parents with principles and values who stand up for what they believe." And Coloroso continues: "It's important that our children see us stepping in, speaking up, and taking a stand against injustices, be those injustices in the family room, or the boardroom, the classroom, or the city streets. When we do more than give lip service to our beliefs, when we walk our talk, we model for our children ways to be that potent force in stopping the bullying." (p. 167)
Basically, between modeling and giving kids a chance to actually practice it, we teach courage and empathy and kindness. Which is why our friend's son didn't spend hours agonizing. He just stood up for those kids--because he'd already had years of positive examples, and opportunities to learn to care about others.
This is a longer review than I normally do, but the book was really, really good. I hope it reaches a lot of people and spurs a lot of conversations, because it will make the world a better place!
barely starting to green up, and even though there's a stiff wind and it's cold today, the sky is blue and clear and the mountains look sharp and near and blue and white. I decided that after our errands, my 4YO and I would go explore an even tinier town over the volcano and through the sagebrush. We took an early stop overlooking Henry's Fork River to eat our lunch, and were just enjoying the peaceful solitude of nature when Ring! Ring! Ring! The caller ID of dread, aka the school. Frau Green, your child is vomiting, please come get her...

I guess that means my other daughter's playdate at our house is cancelled, too...

Ah, well. At least we got to see some nature!

ETA: After talking with her for a while, it seems that it may be a migraine. Headache, aura, vomiting...at least, that's the pattern the other kids take. :( I rarely even get regular headaches, and have never had a migraine. This is the third kid who's started having this. Boooo! Stinky migraines, go someplace else.
You know how Percy Jackson regains his strength whenever he steps into water? Well, that's what nature does for me, too. Even though I live in a tiny town (5 square miles, last I checked), I have to get out of the city limits every so often, where the sky is big and I can see mountains in every direction. The grass is just
My area hosts a pretty major youth ballroom competition every year. Between my friends whose kids compete and my kids' friends who also compete, my girls and I go to watch every year. We aren't a particularly athletic family, dance included, but someone needs to be the audience, right?
This time, we stayed for about four hours, catching younger divisions of dances like swing, cha cha, tango, and samba. No matter what their age or how long they'd been doing that particular dance, you could tell instantly who had years of dance behind them, even if it was "only" ballet. They were at home and at ease with what they were doing. All of them, however, even the relative newbies, had confidence pouring off of them. (Not cockiness, though. When they walked off the stage, I didn't see a single kid acting like they owned the world, or like they thought they were better than anyone else. I've lived in a lot of places around the world, and that's something I consistently notice where I live now: high levels of art + low levels of ego.)
Between the newer and more advanced categories were the national youth cabaret championships. Cabaret, at least in this context, is kind of like figure skating, only with more of ballet and gymnastics and less of icy floors and sharp blades strapped to your feet. Cabaret is the dance with all the lifts and balances that make you gasp. Unlike when you dance a few minutes of say, the cha cha for judging purposes, the cabaret is a dance with a plot to it. The dancers in this competition were excellent—their steps were difficult and graceful, and watching made you feel like somehow you could do that, too. Maybe your body couldn't, but your soul could. Not to mention the pure enjoyment of athletics raised to art, a similar feeling I get when watching the Olympics. Beautiful bodies expressing something beautiful inside all of us.
That said, my prediction on scoring turned out to be accurate for every couple. The top two were my favorites. The second place couple had the most challenging moves, with a lot of lifts and complex turns that could have resulted in some serious injury had they not been so perfectly executed. It was technically perfect. The first place couple was slightly less flashy, but there was something…something about their performance that made you know that they were the winners. Controlled grace. The spotlight in cabaret is on the female dancer who's flying through the air, etc. etc. You expect her to be graceful. But I've never seen a guy dance as gracefully as this—I can only assume he had just as many years of ballet as she did. Their choice of music and even costuming/color was perfectly suited to their routine. They made it all look easy, as if of course anybody could do this. I was never worried about "what if they fall," because of course they wouldn't. It reminded me of long-ago Nadia Comaneci's perfect Olympic gymnastic performance—that natural and graceful. And because of it (or maybe the reason for it), there was a lot of emotion to the dance that felt like they were taking you behind the everyday façade to show you what they were really thinking and feeling.
And that's what a good book does. With any book, whether you've written one like that before or not, you can tell if an author has put in long years of unappreciated or unseen work beforehand. It's all those years of ballet before taking up ballroom. All those half-finished or trunked stories, all those rejected manuscripts where you opened a new file and started a new story the next day. Beyond that, there are books that are technically flawless. Books that are as flashy and "hooky" as you can get, with extreme tension and plot turns that make you gasp and a voice that pushes to the limits. A lot of these get published. But the books that you love, the ones that say something to your soul that other ones don't, have that something extra that this winning dance entry had, too. It gives everything to the art. It opens up all the doors and windows we like to keep closed for fear of exposing ourselves too much. It tells the truth in the most naked and vulnerable way, and in that, it links us to the things that are most human in all of us.
(Photo credit to my husband.)
Have you ever watched a movie and realized you recognized the set? Disconcerting, but fun, too.
Also, I just read a book that left me thinking about all the things it did right. There were a few things that didn't work for me (which is why I'm not naming it here), but I just wanted to think through why the things that worked, did.
1. A believable setting. It's a portal story--with the portal world being OUR world. So most of it happens in this other world, the "real" one in the story. It felt incredibly solid. I think this was because the author incorporated some of the mundane into it, not just the extreme highs and lows. Regular stuff that people do in the real world. It felt like the rest of the world was there, even when the scene wasn't focusing on it. (As opposed to some books, where it feels like a scene or set or person exists only in the moment they are needed for the plot.)
2. A setting where you might want to be. I confess dystopia/post apocalyptic is not my go-to genre, one reason because I don't like the setting. It's not something I care about saving--I just want to find somewhere else to be. I guess this had something in common with a post-apocalyptic world in that they were in a totalitarian-run country that was also at war. But there was always the feel that it had been a nice place and could be again. I *wanted* it saved.
3. Believable emotion. The younger brother of the main character dies in the middle. I was impressed that an author that young (she was a teen when it was published) could write grief that well--not just a one-off scene, but the way it bled into everything and led him to take some drastic action later in the story. She must have had some experience with real-life grief herself, or known someone who did. Too often, it's there for the plot and set aside, but this felt very organic. I suspect there are many adult writers who could not pull this off.
4. A believable but not overbearing voice. The descriptions really put me into the setting, but it wasn't overwritten--the MC was very approachable and there was enough white space on the page to read quickly, if that makes sense. I felt like the author was using her true voice, and not trying to bump it up to be flashier, hookier, whatever. Not every line was death-defying and extreme. You had natural pauses to think about the story. I think this is another thing I find wearying in dystopia. Everything is extreme, and extreme in the same color. This had plenty of angst and tension, but the truth of life is that even when we are going through our worst trials, the sun is still shining somewhere. Ants are making happy ant nests. The sunset is pretty. Kids are playing catch in a park somewhere. It's that balance that makes things feel real and grounded, and I felt like this book did well at that.
So I guess that's what I take from this book--how to ground your story in reality. You've got to make connections, let cause and effect bleed into your story, and just...I dunno. Let the everyday into your story as well? You want to leave your readers with the feeling that even when they've closed the cover, the story still lives, and you've only walked away from the window for a moment.
I love my boys, but I'm glad I have girls, too. It's just fun to have someone to share girl books and movies with. As I mentioned before, we're hoping that the now-out film of Kerstin Gier's Ruby Red (Rubinrot) makes it onto video and into our house. (It's in German, so it's not like we can all go to the theater to watch it this weekend.) We were looking at clips and trailers on line and realized that hey! We recognized some of those places! The story takes place in London, but most of the filming was done in Germany, including the city of Coburg. This palace belonged to the Saxe-Coburg family, one son of which was Albrecht/Albert, who married Queen Victoria. In the film, it's Gwendolyn (Gwyneth in English) and Leslie's school:
Ironically, I brought my sketch book to entertain myself while waiting for it to start, but since it was an art theme, anyway, I ended up trying to capture some of the dances on the page. Hard, but at least I think I know what kinds of things I need to learn to be able to do that.
The one thing I couldn't help but reflect on was that all of these dancers probably started when they were three or four. I'm SURE it wasn't something they just picked up in college. Like the high school Beauty and the Beast production a while back, these people have been dancing for years. I'm sure that probably half the audience last night also had significant dance experience of some kind or another. Which made me realize that I definitely did not grow up in Dance Corridor! I come from the Bible Belt, where yes, there were school dances, but there are still some Baptists, etc. who are not exactly overly fond of dancing. Ah, well. Someone needs to be the audience, right? :)
Took the girls to a university dance exhibition last night. For some reason I thought it was going to be all ballroom, but instead it was more of a showcase of all the kinds of dance they do. They linked it with an art theme, so that the dances represented various paintings, or vice versa. They hung original paintings of the dancers plus famous art prints around the auditorium to look at before and after the show. They did Dali's Persistence of Memory (the melting clocks) with a funny interpretive dance of a bunch of sleepers who could not get out of bed and who did not want their alarm clocks. They did a strange one of Magritte's painting of the man with an apple for a face. They did some "regular" dances, too--ballet (for Degas) and some salsa, swing, waltz, etc. (Including the funny Waltz of the Wallflowers). The most [intentionally] disturbing one was about body image. They pushed it to the point where you as audience wanted them to stop hating themselves for not being thin, to the point where it was painful to watch, before a couple of the dancers finally fought back. That one went over my girls' heads, but hey, if they don't have body image issues, let's keep it that way, right?