Anyway. Some reading going on here. Firstly, Kung Pow Chicken, by Cyndi Marko.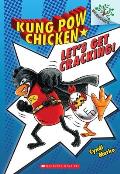 It's like a graphic...chapter book? My 5YO loved it and ran around yelling Kung! Pow! Chicken every night for several nights. We're looking forward to more in the series.
Second, Words of Radiance, by Brandon Sanderson: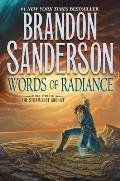 Second in a projected 10-book series (The Stormlight Archives; The Way of Kings was the first one). It's the largest book Tor can bind in one volume, apparently. So if you are into extremely epic fantasy, look no further (just do watch you don't drop it on your toes, though--broken toes hurt.) There are a LOT of characters in here to keep straight, but you won't forget the major ones. Jasnah's ward Shallan knows she has to get to the Shattered Plains to give some information to Dalinor, the king's uncle, that will help in the war against the Parshendi. Dalinor isn't the king, but he keeps having visions of a coming disaster (the return of the Voidbringers, who almost destroyed the world in a past age), and is looking to the coming of the Knights Radiant to fight against the Voidbringers. And Kaladin, born low-caste but noble in spirit, is having growing pains over becoming the hero he's meant to be. I actually liked Kaladin's character arc the most. There are some awesome chapters for him towards the end. :) If you don't love Big Fat Fantasy, then this isn't for you--but if you're a Sanderson fan (or haven't tried any but like Big Fat Fantasy, though you should really start with the first one), you'll love it.
Winter's still not over. See all past entries of winter for a recap. (It was zero yesterday morning when I got up. WHEN WILL IT END???) My husband (university) has spring break, but not the kids, so we can't flee for warmer climes. Besides, we've had various sick kids, but all of them are in school today. *knock on wood* Now I think I'm getting whatever it is.